Braving the elements to take on Watford.
Going down the match on a Saturday afternoon. It doesn't happen very often so make the most of it, even if you do have to brave storm, flood and tempest to get there.
This time round it's Watford who we welcome into our palatial home. Roy Hodgson is their manager, or he was on Friday night. Whether he makes it to kick-off, or even as far as the M6, your guess is as good as mine. If he doesn't, expect some obscure Latin from Serie B taking charge for a few weeks. Ashley Young used to play for them and the last time they were here they wasted a lot of time, then we got the winner in the last minute of it. They'll get relegated this season and be back in two years.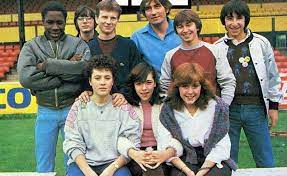 Ezri Konsa is still suspended, Bertrand Traore and Marvelous Nakamba are still injured, while the boss says he's looking to make a few changes from the last couple of games. We'll see whether he does or not, and whether he's ready to do what supporters always say mid-table managers should do at this time of the season and Give The Kids A Chance. There's stories about Tim Iroegbunam getting a game and good luck to him if he does, as well as to anyone trying to pronounce his name.
We usually say something disparaging about the opposition's supporters at this point but there's a bit of a problem here. Has anyone ever met a Watford supporter? There was the brothers who wrote the hoolie-books and Murphy's Mob, but apart from that you never see any of them anywhere.
We're in the middle of a run of easier games that haven't been so far. The new manager bounce is over and we could do with something to liven everything up. Four or five-nil would be a good way of doing it, because March is coming soon and that's always a month not to look forward to. Then hope your roof's still on when you get home.