Author, journalist and broadcaster Steve Tongue on Villa's major contribution to his new book West Midlands Turf Wars.
After writing about the history of football in London (Turf Wars) and then the North-West (Lancashire Turf Wars), there was only one place to go next. Ideally, it should have been the Midlands as a whole, which together with Lancashire, supplied every team (six each) for the world's first-ever Football League in 1888 and has been represented at that top level every season since. But that was just too big an area, and diluted the sense of local rivalry, so Derby County, Leicester City, Nottingham Forest and smaller brethren will have to wait for another volume; West Midlands Turf Wars it was this time, with no shortage of tales to fill the 350 pages.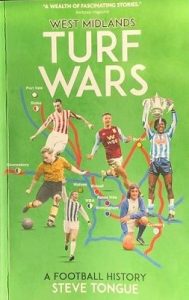 What emerges very clearly is that Aston Villa always were, and remain, the region's biggest club. But you knew that already. How dominant they have been over their neighbours is reflected statistically in an appendix common to all volumes in the series, in which we list the highest placed local club in the Football League and then the Premier League in every season since that very first one.
Villa have led the West Midlands contingent no fewer 62 times, more than every other club put together. They are followed some considerable distance away by Wolves (27), Albion (14), Stoke (11), Coventry (six) and Birmingham (just two – in 1906 and 2003). And the eleven league championships have gone the way of Villa seven times, Wolves three and West Brom one (back in 1920).
Wolves provided the opposition for Villa's first-ever league game on 8 September 1888 (a 1-1 draw) but it was Albion who became the closest rivals in every sense until Birmingham, then known as Small Heath, joined the First Division eight years later. By that time Villa and the Baggies had remarkably met in no fewer than three FA Cup finals, in 1887 (2-0), 1892 (0-3) and 1895 (1-0).
By the turn of the century, the Villans, with five league championships and three FA Cup wins, including the 'Double' of 1897, were unquestionably the leading club in England and could therefore reasonably claim to be the biggest in the world. After ten years of league football they had also replaced Everton as the best supported, by becoming the first club to average over 20,000.
Sadly there was no such thing as a World Clubs Cup in those days, although Villa would, of course, contest it in 1982 against Penarol of Uruguay. As a local radio reporter I had been at Highbury the previous year for the famous day on which Ron Saunders' team were crowned champions despite their defeat by Arsenal; and always loved a day out at Villa Park, above all for an FA Cup semi-final.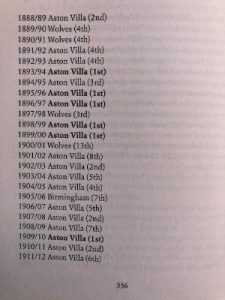 My first visit, I'm pretty sure, was as one of more than 40,000 at a League Cup tie against the Albion in 1969-70, the unhappy season in which Villa were relegated to the third division for the first time. That demotion, however, illustrates a point common to all the Turf Wars books – that even the biggest clubs have their ups and downs. Within a few years of it, after all, Manchester United, Chelsea and Tottenham would all be relegated to the second before coming back stronger, as Villa would.
The ground also provided a surprise for me about a decade later when reporting for Radio 5 Live. At half-time I was told someone in the main stand who had been listening wanted a word, which invariably means bad news – you've either upset them by being too critical or have made some elementary mistake. It turned out to be an old neighbour from Leamington and his son, now season-ticket holders, who I hadn't seen for 35 years, and just wanted to say hello.
I hope anyway that the book brings back some memories and adds some historical perspective about the West Midlands' most successful club. And apologies for the choice of player in claret and blue on the cover – it was always possible he would move before the book appeared but the justification was that it needed to have one modern-day player to contrast with the likes of Stanley Matthews, Billy Wright and Jeff Astle.
West Midlands Turf Wars is published by Pitch at £12.99 and is available from Waterstones bookshops and Amazon.