Dave Woodhall looks at both January's deals and the ones that never happened.
The transfer window has slammed shut again, and we can look back with a certain amount of satisfaction, as well as the usual what-ifs? It was a strangely lopsided time, with one genuinely jaw-dropping, they really mean business signing, a good one and a couple of necessaries. There was also one notable absence, because we always have to have one position unfilled at the end of December that's still not been filled when February comes round, a few understandable departures and one that was a bit of a head scratcher. All in all, it was a good month for the Villa even if there was a bit of a question mark over how the powers that be see the rest of the season panning out.
To start with the obvious, Phillipe Coutinho was the biggest signing any of us can recall, at any time of the year. There can't be many Villa supporters who were alive the last time we signed an absolute A-lister known around the world. I don't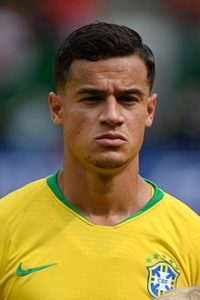 know how long he'd been on our radar; it's likely that we never envisaged signing Coutinho but when he became available we snapped him up because that sort of player doesn't come around very often. Equally, Lucas Digne's árrival might have been a case of taking advantage of the unrest at Everton and going for a player now rather than waiting for the summer. Ten out of ten for opportunism on both counts.
The other senior signings were made necessary by departures. When Axel Tuanzebe left we need cover in his position and Calum Chambers fitted the bill. He won't cost more than a couple of million all told and picking up an experienced fourth-choice central defender who can play in another couple of positions for that sort of price is a shrewd deal all round. He might prove to be a bargain and settle down well or this time next year one of our Academy graduates might have stepped up, in which case we can say thanks, goodbye and likely make a profit. Equally Robin Olsen might be an upgrade on Jed Steer, he might not be but Jed will be getting some regular outings rather than being restricted to the occasional cup match.
There's been a good few loan departures, most to get younger players some game time and others presumably as a prelude to a permanent deal in the summer. Anwar El Ghazi moved to Everton, where he was met with a wave of apathy, and it's hard to see him having any sort of future at Villa Park, although he's given good service and doesn't owe us anything. Trezequet looks like he's off to the Turkish club Başakşehir. He hasn't really worked out here, we're well stocked in his position so thanks for the goals and good luck.
The final loan deal was the most mystifying. Letting Matt Targett go to Newcastle not only leaves us short at left-back, it also helps them, which is the last thing anyone wants.
Of course, it wouldn't be the January transfer window if we didn't spend the final evening glued to the screen, hoping against hope that all the reports were wrong and Villa would be making the last big signing that we need. This time it was a defensive midfielder, and despite a month of linked withs and looking ats, the situation remained vacant. It seems that we weren't trying to make a late dash for Europe after all, that we're holding fire until the summer, when presumably our long-term targets will become available. Reportedly turning down offers for Douglas Luiz also indicated that he's got a future with us.
Yes, the window did fizzle out a bit but then again, it couldn't have continued in the same way it began. If we'd signed Coutinho on Monday there would have been widespread celebration and we'd be looking forward to the rest of the season with unbounded optimism. Now, there's a bit of disappointment that we've only brought in one world-class player, one of the best in his position in the country and tied down one of the best keepers in the world to a new long-term deal.