In which we ask a man who knows what he's talking about.
With unprecedented demand for tickets, worsening transport problems and the sort of feelgood factor that will only make the situation more acute, little wonder that the topic of Villa Park redevelopment is being discussed again. Do we move, if so where to, and if not how can Villa Park be expanded, bearing in mind the problems associated with making a Victorian location fit for the twenty-first century?
It's a subject we can all have opinions about, but one man speaks with more knowledge than the rest of us. So we asked Simon Inglis; Villa supporter, author and probably the world's leading authority on stadium design (our words, not his) about this seemingly impossible dilemma.
May as well start with the big question. Given that we're selling out almost every game, with a five-figure waiting list for tickets and expanding the current site will be difficult, what would you do for the future?
"Obviously the first question is, should we stay at Villa Park? The biggest opportunity to move would have been the Commonwealth Games and doing a Manchester City at Perry Barr. That would have been the obvious move. Personally, I wouldn't have wanted that, partly because the transport problems would have been even greater than those at Villa in terms of accessibility. However much one complains about Aston or Witton stations, at least they're in place, and as such they play a huge role in the ground's viability. But they have to offer decent services on match days. That's a no brainer. What they offer in terms of mass transit couldn't be provided at Perry Barr, at least not without vast expenditure.
"Someone working on the Games might say that's rubbish and Perry Barr's just as good as Villa Park, but actually Villa Park is in a good position in terms of transport nodes – two stations, the proximity of the motorway, you've got through roads on two sides and a number of different angles and routes from which cars and pedestrians can approach the ground. It's like a spider's web – if you're building a new ground near a motorway junction you have to provide the roads to get there and make sure that they don't clog up the motorway. If you have a ground that's buried in a web of existing transport nodes and regular routes you already have that infrastructure, you don't need to provide it from scratch.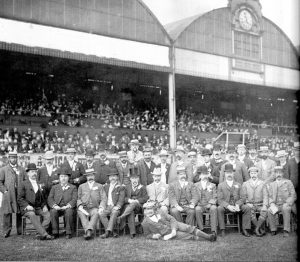 "Yes, things will be congested on matchday but wherever you build a ground for fifty, sixty thousand people there will be congestion so the question is, is it worth spending potentially hundreds of millions of pounds somewhere else or make do with what you've got. I would argue that in Villa's situation the current site is as good as we're going to get."
Years ago, when the first wave of new ground were being built you said that it was incorrect to talk of out of town grounds because most of the new builds were either near the same site or in some cases closer to town than the ones they replaced, Sunderland and Middlesbrough being a case in point.
"That's right, because the infrastructure already exists and also because the majority of people attending regularly have a matchday routine, they know where they're going and how long it'll take. An international stadium is different because most people go once or twice a season at most whereas at a club ground, maybe eighty per cent are regulars, including visiting fans, many of whom might make the trip every year and have their own route, places to eat and to stay. So having a ground in an area like Aston is no bad thing at all.
"Next, you have to work on peoples' transport habits. Even in post-Covid times, it's not sustainable to encourage car use. Nobody builds football grounds with twenty thousand parking spaces anymore. The new Tottenham and Arsenal stadiums have less than a hundred spaces each. So if the majority of people are to be encouraged to go by public transport, having two stations and various bus routes in the vicinity is a great foundation, but you then you ask, 'What are the transport providers doing?' In my youth in the 60s, Birmingham Corporation Transport – publicly owned of course – laid on regular Villa Park specials from the centre of town and back. There were queues of buses ferrying people from Villa Park to the city centre. It could hardly have been easier. For me, therefore, the problem is not the layout or the position of Villa Park, it's the public transport provision on matchdays."
In their defence, Villa have regularly tried to get improvements but the rail companies in particular don't want to know.
"I don't know enough about transport planning these days to know exactly what the problem is but if there are incentives, if there is some way in which a bus company can run services, I don't know. Would that be attractive to people, is that what the biggest complaint might be – getting away from the ground on public transport, sitting for hours on Lichfield Road?"
I think it's the getting out, and also the lack of facilities around the ground. Pubs have closed, there's not many places to eat. You can go to other grounds and have a choice of places to spend your matchday money whereas at Villa Park there's not much opportunity to do that so you spend your time away from the ground and get there later, which is another problem now. But more than anything it's the getting away. I know of supporters who say that leaving on ninety minutes gets them home an hour earlier than waiting until the final whistle. You can understand the temptation to get off early.
"I understand that and when I eventually started driving to games in the 1980s it was exactly the same, we'd always park in the same place, but getting away was always a lottery. As for the facilities, again the issue is not with the ground or the location, it's the supporting infrastructure. I'd have loved a park and ride service so I could have parked further away."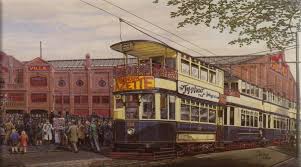 That's also made worse by the changing nature of the area. There's less fewer people living round there and more industrial estates so there's not enough people to sustain businesses throughout the week. With all these problems, and with demand vastly exceeding supply, how do you improve Villa Park?
"The problem is, and it's not just Villa Park, but you could write a case study on Villa Park, there was never a masterplan, not since the days of Archibald Leitch and even that wasn't really a plan, it was just fitting in what they could, where they were. In an ideal world, if Villa were to do what Liverpool or Blackburn have and buy up a lot of the houses in the vicinity, that could be the key. If you could buy up the properties on Nelson Road give a larger block, you could theoretically start again and build a new ground a bit further north.

"The pinch point along Witton Lane has always been the issue. That side, where you would expect a large ground to hold fifteen to twenty thousand, is too narrow. So in order to create the room for expansion on that side you would have to slide the ground north, towards Witton Road. But think of the cost. Villa would have to play somewhere else for a season or two, you'd have to to buy a huge number of properties on Nelson Road, Witton Road and Witton Lane. Given the costs, and the likely delays, that means, ok, let's look at what we've got and what can we work with. And the answer is that we've got four serviceable stands, but they're uninspiring, shall we say. I like variety and quirkiness in a ground, but at Villa Park, although of course architects were involved, they weren't stadium specialists, and the overall effect is, for me, disappointingly piecemeal."
I don't particularly want to go down a road travelled many times before, but those stands were all built during a time when Villa's underlying ethos was along the lines of 'How much off for cash?'
"Absolutely. Doug despised architects because they cost money. He had a builder in Ted Small who he thought could do it all, and in fairness he did. There's nothing wrong with those stands in that they're serviceable, but when you compare them with the new big grounds, with Spurs and what's coming at Everton, you're looking at smaller concourses, narrower seats, tighter configurations. It means that the club has less ability to take money from supporters. To a certain extent Villa Park's facilities are self-limiting.
"So given the fact that you have three relatively recent stands that are serviceable, everything points to a new North Stand, which is exactly what the club's strategy appears to point towards. It's the obvious way forward. I imagine that most fans will want is a replica of the Holte End at the Witton End. It makes sense, even if it's not a particularly good design. But there will be room for something similar, which will take us up to fifty thousand at a push. The other aspect is what do you do at that stand, do you include offices and car parking? If you spend a lot of money you can produce a lot of facilities that would keep the club in good stead for the next twenty years or so while the other stands look after themselves.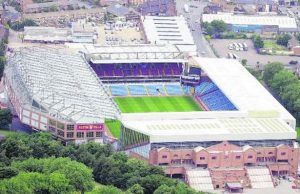 "The other potential route for expansion would be extending the upper tier of the Witton, sorry the Doug Ellis stand, but then you have the problem of light for the housing behind, which might be a long and drawn-out process to add one or two thousand seats. So the only choice, realistically, is a new North Stand."
It's long overdue and I think the problem has been that we've had a succession of new owners, each with their own plans. Randy Lerner came with an impressive set of ideas that include a nod to history at the Holte End and a groundbreaking North Stand but like everything else they faded along with his interest. Tony Xia had some sort of idea for Aston without anyone ever knowing what it was and now we have NSWE, who have spoken about expansion but not produced anything concrete yet.
"To an extent they're playing a waiting game, which I understand, but at least both of them come across as characters who will place their trust in architects. It will be interesting to see whether the owners have put it out to commission yet or whether they have done any feasibility studies but I've not heard about any."
You mention replicating the Holte at the North Stand. There's talk of perhaps having a single tier like the Yellow Wall at Dortmund or the stand Spurs have built. Is that even possible with regards to the regulations about distance from eyeline to pitch?
"The existing Holte End is right on the edge of the maximum viewing distance which is reasonable for football, and you certainly wouldn't want to repeat the Holte in terms of sightlines, at least on the lower tier. But I wouldn't have thought there would be much in the way of height restrictions or the views from Aston Park.
"I think the idea of a Yellow Wall is a bit disingenuous. The South Stand at Tottenham isn't a single wall, it's a single tier but it doesn't have complete throughflow from top to bottom, as in a traditional Kop. There are priority seats and hospitality areas. Some of it has rail seating. So even though it looks like a single stand there are gradations within.
"In terms of hospitality, the trend is moving away from boxes and towards executive areas where you get your seat then go back to a lounge, so I wouldn't necessarily envisage a double line of boxes.
"Also, given the space available, Villa could repeat what Arsenal have done at the Emirates – the Etihad is the same – where the club offices are not inside the actual stadium but in a separate freestanding block, a bit like the Villa Village on a grander basis. By putting them in a freestanding building you can get more corporate facilities inside the ground. I'm sure the club will be looking at this."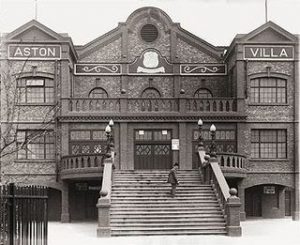 The most controversial part of the earlier redevelopment was Trinity Road. I'm sure you once said that we couldn't build another tier on top of the old stand in the same way Rangers did with their main stand. Is that true?
"There were a number of reasons and I understand the club's reticence. It could have been done with money but you wouldn't have got the capacity. The two retaining walls were at an angle because of Trinity Road, you would have had to build a complete structure behind them and it would have been a massive engineering job. What I most objected to was really not so much the demolition, which I was upset by but expected, but mostly because the replacement was so poor."
There was a lot to commend about the new stand, the lines look good and the idea of building over the road was impressive, but for a comparatively small amount on top it could have been spectacular, which was Villa in the nineties personified. There's a lot of plastic and sheet metal that could have been glass and brick for not much more money.
"The club wanted to do it on the cheap. But they also took some strange decisions. Why was the Holte End built as a pastiche of Trinity Road stand, which was in itself a throwback to the redbrick municipal architecture of the Victorians?
"But now you look at the club, and what a huge leap forward. Look at Christian Purslow, for example, we now have a chief executive with unrivalled contacts in football. So whatever they decide, I do at least now have confidence that Villa's top brass will bring in the best professional advisers they can, including decent architects, and listen to them. Everything about the club now shows that they want the best, and for me, what happens with the new North Stand will be as important an indicator of their intent as any signing, Couthino or otherwise. No more cheap and cheerless. Let's go for quality this time."
Comment on ths post here