John Russell talks about a forgotten Edwardian hero.
Things had started to turn sour for the Villa at the start of the new Edwardian age. The team had virtually chosen itself for so long that several of the players were getting a bit old in the tooth. Some were slowing down to such an extent that opponents we had previously outrun and outpassed with the speed of our play were finding it easy to combat our more laid back style.
The first seven matches of the season saw only one win and the natives were getting decidedly restless. A victory at newly promoted Small Heath quelled the rebellion for a brief moment but it was obvious something had to be done.
The directors had long been admirers of the Bury centre forward who always seemed to play well against us and had shown he had the big match temperament when he scored two goals for them in their 4-0 cup final victory over Southampton at the Crystal Palace in the previous season. So it was that on the 15th October 1901 we wrote out a cheque for £375 to secure the transfer of Jasper McLuckie from Bury. It was to prove one of our most inspirational acquisitions ever.The team had already been chosen for the next match at Derby so he had to watch from the stands. He would not have liked what he saw as we went down 1-0 and slumped to twelfth in the league, only two points off the relegation place.
Two days later Jasper failed to impress in our next match in front of 6,000 fans when he did not score any of the six goals we put past Wolverhampton as we went on to retain something we regarded as our birthright, the Birmingham Charity Cup.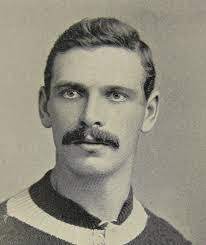 His first match proper at home to Sheffield Wednesday turned out to be a dream debut. Jasper had a foot in our first goal by Templeton in the very first minute then scored twice himself as we sent supporters home happy with a 4-1 triumph, the one for Wednesday only coming with the last kick of the game. Whether the fans were otherwise impressed with our new leader is a moot point because he was described as being a bit gangly and was prone to trip over his own feet, something that over a century later might perhaps have been interpreted as a dive.
But when he scored twice in the 3-0 win at Notts County and scored the only goal of the game to defeat Bolton he was suddenly the talk of the town. All the more so when his two goals saw off the men from Molineux again a week after a futile trip to Maine Road when most of the league programme was called off because of fog.
A couple of blanks followed before normal service was resumed with a hat-trick against Grimsby Town and his name was rite large in the Chritmas lights when his only goal of the game in Bordesley Green helped to send Small Heath on the way back to the second division where they had come from poste haste.
It was inevitable in the roughhouse that was football in those far-off days that injury would eventually play a part. However, having single handedly, or footedly, rescued Villa from the mire it might be thought that Jasper had ensured his place amongst the great pantheon of Villa centre forwards but this may well be the first time you have ever heard his name and you will be hard-pressed to find his name amongst any of the A- Z of our great players. Sixteen goals from 23 games is a higher percentage than any of the other 'greats' achieved.
Injury again restricted his appearances in the first half of the following season. But normal service was resumed at the start of the new year and his reappearance coincided with a climb up the table which eventually saw us finish as runners up to Sheffield Wednesday. A 4-0 New Years Day loss at Hillsborough proved critical. There was perhaps some sad irony when, despite being heavily odds on, we were beaten 0-3 in a cup semi final at Anfield by of all teams, Bury. Our star number nine, in the days before numbers, finished the season with 20 goals from 24 games. What wouldn't we give for something like that these days.
He scored six goals in nine games at the start of the next season before again injury took its toll. Unfortunately, when he returned for ten games after Christmas his touch had deserted him and it is probably this subsequent failure which has caused him to be more or less written out of our history. Finishing fifth and losing in the Fa Cup fourth round was not what we had become used to, even though all things considered it was a fine achievement against the odds
Jasper's final game for us turned out to be another against his old pals from Bury. Rumours followed in the spring of 1904, not least when Third Lanark came here for a friendly (2-2), that Jasper wanted to retire from the game and set himself up in business in his native Dundee. Rumours which turned out to be nothing more than pie in the sky when he amazed everyone by signing for Southern League Plymouth Argyle, where he stayed for one season scoring fourteen goals in 33 games.
Jasper McLuckie scored 41 in 57 for us. Enough to warrant a statue outside the ground for anyone who could do that today.
Comment on this story here.