John Russell writes about the birth of floodlit football.
However much we try to pretend that floodlight football actually began at the Aston Lower Grounds nearly a century and a half ago, the truth of the matter is that it really began in Wolverhampton circa 1954. And it began in Wolverhampton because they were the Football League champions at the time and had the vision to light up their greensward for a bit of nocturnal activity. Perhaps they were also inspired by the motto of the now-city, "Out of the darkness cometh light".
I was fortune in that whenever it rained on a Wednesday afternoon, school rugby was cancelled and we were sent home instead. This meant that on 21st November 1953 I had the rare opportunity of watching a football match on television and that game happened to be England v Hungary at Wembley. We English love to boast about our victories at Agincourt and Trafalgar et al but are equally sanguine about our defeats and England 3 Hungary 6 remains one of the worst.
The three was almost considered a fluke; this was the afternoon that Hidegkuti and Puskas changed the face of football forever and the consequences are still to be seen out there in every match that has been played since. Not least following the emphatic seven–one defeat in Budapest a few months later.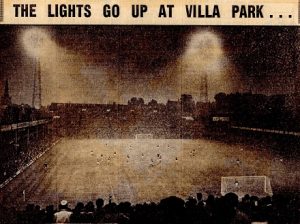 But with the honour of English football at stake Wolves decided to use their floodlights to prove that though the national team may have failed when it came to club football we were still up there with the best. Moscow Spartak, the second-best team in Moscow and therefore in Russia were chosen as the fall guys and a full house of 57,000 turned out at the Molineux to see them put to the sword.
With the start of the Cold War anti-Communism was much in vogue and the visitor were not exactly given an over-enthusiastic welcome. So much so that they chose to change in their hotel and arrive at the ground in tracksuits rather than use the dressing rooms at the ground. After a goalless first 45, Wolves saved their best for the televised second half and Spartak did not capitulate until the 65th minute whereupon Wolves did what they were required to do and annihilated them 4-0. We were also treated to a rare appearance of a substitute.
But beating a team from Moscow is one thing, the real kudos would come in beating a team from Budapest. Enter Honved.
The pitch may have been floodlight but not so the surrounding area so fearing incidents in the shadows the attendance was reduced to an all-ticket 55,000, although as anyone who was there, ie me, (and later our semi-final against the Baggies) can confirm the Molineux did not safely hold 55,000. After fifteen minutes Honved had the audacity to lead 2-0 but Billy Wright, England captain in those Hungarian debacles, led a methodist revival and Wolves ran out 3-2 winners.
Nothing for it, Moscow Dynamo, who had walked out on their last visit to this country to commemorate the end of World War Two ahead of an intended visit to Villa Park, had to be persuaded to return. Dynamo received a rather more enthusiastic welcome than their Spartak neighbours, except from the manager of the Victoria Hotel who was confused when they asked for yoghurt at breakfast and he had no idea what they meant so he hurriedly had to send a chef out scouring the town to find some. Think on that next time you dip your spoon into the carton.
Unusually the teams came on to the field side by side, the home players carrying bouquets of chrysanthemums which they proceeded to hand to their opponents, who embarrassingly did not know what to do with them so, prompted by the Wolves players they threw them into the crowd. My father had somehow managed to get hold of some tickets – and a lift to the ground (!) so I was there in that swaying crowd on the North Bank to see Wolves score after 14 and 49 only for Dynamo to elicit a bit of late nervousness but it ended 2-1.
The nation was now agog with floodlight football and every club in the land seemed to want to get on the bandwagon – except the Villa. It is not quite clear how close we were to financial ruin but the Midland Bank took a lot of persuasion to eventually cough up with the ackers when they realised we were in grave danger of falling even further behind attendance-wise in the race to light up.
Initially clubs were able to refuse to play under lights until they had lights of their own and we Villa fans took a lot of stick from Sheffield Wednesday supporters for causing them to leave the pubs earlier than usual because we had insisted on an old fashioned 2.15 kick off.
There is a certain irony that our first floodlight encounter was for the Charity Shield at Old Trafford following our last cup final triumph. This was memorable if only for the fact that Matt Busby had the inspired idea of having Peter McParland and Ray Wood lead out the two teams. How sad, incidentally, that the Johnny Dixon memorial bench is now out of bounds to Villa fans at Villa Park
Eventually the league ruled that the home team could dictate the kick-off time and so Saturday three o'clock was cast in tablets of stone, until the Sky fell in.
Comment on this article here.