Previewing Brentford's visit to Villa Park.
Sorry, but I still can't grasp the idea of playing Brentford in a Premier League match. In fact, I struggled for some time to get used to playing them in the league at all, and that was years ago, but here they are and good luck to them.
For a club that have spent much of their history in the lower divisions and therefore off our rader, Brentford have occupied a fair bit of our attention in recent years. They've managed to find some magic formula that involves buying players for pennies, selling them for a fortune and getting replacements just as cheap and even better, which is more or less the exact reverse of what we've done. As a result they've been on the verges of promotion into the Premier League for a few years until they finally went up last season, despite having average gates that weren't much better than Walsall. In fact, they've done so well you hardly ever hear about how Rod Stewart used to be on their books any more.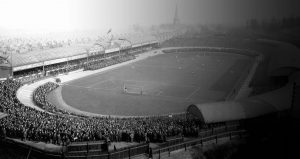 Our links with Brentford are stealing their manager, giving them lots of money for various players, some of which have worked out and some (well, one) who spectacularly didn't and now plays non-league, and letting them beat us most of the time, or else we just about get a draw. Now they've finally arrived to play with the big lads it's about time we knocked that idea on the head. Their crowds pre-success were much the same as Fulham's when they were equally obscure and we'll soon see whether they'll bring as many as their buddies from the banks of the Thames.
They've had a good start to the season, although they've only played Arsenal and they haven't been outside London yet. They have a head coach who looks like the cerebral good guy detective in a Danish crime noir box set and Ivan Tonev, who we'll be buying next summer more than likely. Good luck to them getting to our level, but let's not get above ourselves, eh lads? Enjoy it, just don't get any ideas about thinking you're as good as we are. This is where we live; you're only on holiday here.
Like last Saturday this should be the sort of game we're looking to win without having any real drama.W e managed it against Newcastle and another one this time round should set us up for the next run of fixtures and also the last-ditch mega-siging we're sure to be lining up on deadline day.