John Russell writes about a tournament that was forgotten as soon as it was over.
The idea of Villa having played at Wembley Stadium on a Friday night and again next day is seemingly so preposterous that people are going to think I have made up this story. But trust me, every word of what follows is true.
Allow me to take you back to August 1990 and the Makita Trophy – which you have probably never heard of, either, unless you were there. The four participants invited to take part in this supposed footballing extravaganza were Villa, Arsenal, Spanish side Real Sociadad and Italians Sampdoria. In order to ensure an England v The Rest final the two Continental teams kicked off at 6pm and proceeded to bore the pants off the meagre crowd which had assembled. 1-1 had an air of inevitability about it so the unlikely European Cup Winners Cup holders took the plaudits from the penalty spot.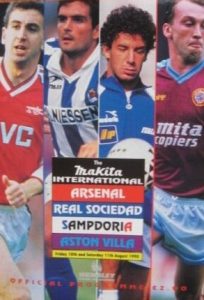 Two hours later at 8pm the crowd had swelled to 20,063 for the big English match. Chief interest was that Villa were under the auspices of Czechoslovakian manager Joszef Venglos for the first time. Problem was that despite a trophy being at stake the Villa players did not really want to play ball in what they clearly considered was nothing more than a pre-season kickabout, particularly as whatever the outcome they had to return again next day.
Disappointingly for the sponsors Villa were without David Platt. Arsenal boasted a new goalkeeper, David Seaman, but he could hardly have had an easier debut, almost completely untroubled by a powder-puff Villa attack. The fact that the local team only won by 2-0 can be put down to the fact that they were not all that bothered either.
Come the Saturday Villa had to be back for the third place match kicking off at 1 o'clock. Despite being at Wembley stadium the competition had not caught the imagination of football fans, not even Villa supporters. In front of a mere 21,542 a lacksadaisical Villa proceeded to replicate their lack of effort of the night before, as did Real Sociadad, so 0-1 and a penalty at that tells you all you need to know about this match.
Those very few Villa supporters who stayed on for the 3 o'clock final got to see another non-match which the Italians won, predictably perhaps, by the only goal. Which is why you will struggle to find any reference to the Makita Trophy in the records of Aston Villa to prove that this tale is true.
Fears were already being expressed immediately for the fate of Dr Venglos and the Villa in the forthcoming season in particular. But before the big kick off at home to Southampton we had an important duty to perform, namely the opening of the new Walsall stadium at Bescot. Nothing too friendly about our annual joust with the Saddlers, 4-0 without too much trouble.
The pundits proved to be correct and as we barely avoided relegation Dr Joszef was soon encouraged to return to his now 'free' country. The big surprise was that Arsenal went on to become league champions. The Makita tournament was moved from Wembley and lasted another four years but it seemed the only clubs who took it seriously were Sampdoria, who won it three times in succession, and Arsenal, who also won it three times and were hosts twice.