The long-awaited autobiography of the greatest captain you ever saw. 
The Full Morty, by Dennis Mortimer with Richard Sydenham (Pitch Publishing).
The events of the early eighties have been written about at great length and you might think there's not much more that can be said about them. Well, perhaps there is and the man best placed to say it has finally got down to writing his version of those glorious days, with characteristically a bit more on top.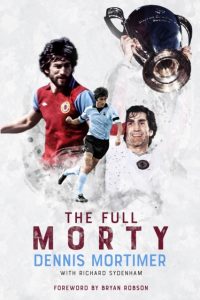 The Full Morty tells the story of Dennis Mortimer's career, from his time in Liverpool schools football through his early days with Coventry right up to his coaching and media work. There's nothing particularly revelatory but what you get is an insight into a genuine legend, and a player whose role as our most successful captain of the modern era sometimes overshadows the fact that he was also an incredibly talented midfielder, the one signing who linked both Ron Saunders' great sides and also what came afterwards.
One particular aspect that I liked was the bit that often gets glossed over, namely the rebuilding period of the late seventies. Players who came and went are covered in detail while there's a look at local rivalry that will come as little surprise to anyone who remembers the incident-filled games from that time. 
Talking of surprises, perhaps the biggest one is that there's no great criticism of Doug Ellis in here. He does of course play a large role in Dennis's description of events post-1982 but what's said is factual and often with a bit of humour involved. Again, there's not much point in going over old ground and Dennis makes his point then moves on. Just in case you think he might be mellowing in old age, though, there are a few targets who come in for a full blast of the Mortimer ire. There's also Dennis's all-time XI, which is much as you'd expect and comes with a few comments that confirm how he's never been swayed by popular opinion. 
Well-written and holding the reader's attention throughout, there's a lot contained inside the book, although there's still something missing. The cover has drawings of Dennis playing for Coventry and the Villa. It should also show him in an England shirt.