Dave Woodhall argues that it's time to stop looking ahead and concentrate on now.
Some years ago, Steve Whitehouse writing in the Holy Trinity fanzine said that Villa always seemed happier finishing fourth than second, because we could get to sixth without much trouble but if we were second then the pressure was on to improve and finish first. A couple of years later Sir Graham made his ill-fated return at a time when protests, demonstrations and effigy-burning was the order of the day and blamed such unrest on the fact that, "You're bored with finishing sixth". Yes, it was some time ago.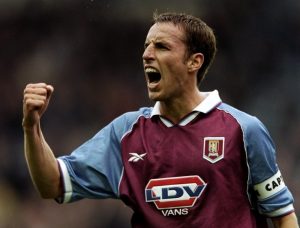 Since then our aspirations have dropped a bit. It might sound strange to (much) younger readers but during those years we had genuine hopes of winning the league; we finished runner-up twice, while Alex Ferguson said that Villa under Brian Little were the up and coming team he feared more than any other.
Hopes of the title probably ended when the final piece of the jigsaw turned out to be Stan Collymore and as Gareth Southgate, who would no doubt have to be reminded was then our captain, said that every time we tried to take the final step we ended up further away. Since those days it's been a tale of lowered ambitions; under Martin O'Neill we aimed for the top four, then mid-table security was the idea, culminating in Christian Purslow's target of finishing eighth last season. As you may have noticed, we failed every time and that leads us to the current position.
Going into tomorrow's opening pre-season friendly at Walsall there's still a state of optimism around Villa Park. The Gerrard factor, our owners still not having done much wrong and ambitious plans for redevelopment have led to a general feeling that we're making continuous improvements even where you can't see them at the moment, which in turn means that season ticket demand continues to reach unprecendented levels. And with that surely comes added pressure to finally get it right.
What getting it right means for the Villa in 2022-23 is, of course, open for debate. Purslow did say something about seventh being the goal now, and that should be attainable given the backing Gerrard has enjoyed so far, added to what he already has at his disposal. Any better than that and we'll have to rely on a couple of clubs falling back unexpectedly and others not making the progress they might expect.
One certain fact, though, is that this has to be the season where we make a statement of intent. Since the new owners took over our signings have largely been ones for the future. Some did the job and have moved on, others have improved as we've gone along and on some the jury is still out (Douglas Luiz, this means you). Gerrard's appointment saw the project, such as it was, appearing to have changed, with subsequent players largely signed for the present. Youthful promise has been replaced by experience and proven ability, and at this stage of the game just being grateful to have escaped the clutches of the Championship and potential administration won't be enough. Given the absolute decade-long shitstorm we endured, our supporters have been incredibly patient – which is something that should be mentioned whrn the 'f' word gets bandied about by the local media – but we can't keep looking towards future success indefinitely.
Twelve months ago we were thinking about overtaking Spurs and Arsenal; they've gone rocketing ahead. Clubs we hoped we'd left behind have been improving. Even so, seventh place shouldn't be too much to ask given the money we've already spent and the signings we're being linked with. After all, three of the last four to finish there have been Burnley, Wolves and West Ham. Given the just-about-acceptable rises in ticket prices and the total rip-off prices being charged for shirts and associated leisurewear, we have to stop talking about how we're going to get there eventually, and instead we should finally arrive. I'd quite like to be bored with finishing sixth again.