Richard Keeling has a look around at what's going on.
It had to happen eventually, didn't it? You can't expect to stay on an upward trajectory for ever, however much the fans and doubtless the owners would like us to. We have seen steady improvement for much of the time since Nassef Sawiris and Wes Edens took over in 2018. Villa scraped through the play-offs in 2019 and avoided relegation by the skin of our teeth in 2020 but at least we got out of the Championship and were still in the Premier League, even if we had to thank our lucky stars at times.
We made the most of our good fortune though and the 2020-21 season saw consolidation and a respectable eleventh place finish with 55 points, so the hope and expectation for this season was that we would be able to improve on last season. It doesn't look like turning out that way though. Dean Smith was shown the door after a poor start to the season but, despite the change of manager, we have already lost as many games as we did in the whole of last season. We are currently ninth with 36 points and we will need to find some consistency over the remaining nine matches if we are to match last season's finish. We have still got Spurs, Liverpool and Manchester City to play, too.
Momentum is important in raising expectations that the team will keep improving. Full houses at Villa Park were a rarity until Sawiris and Edens, ably assisted by CEO Christian Purslow, started splashing the cash and giving us the impression that at last we had owners who know what they are doing. The improvement in the squad was also obvious to everyone.
It has just been a question of when the upward trajectory will start to level off as it is well nigh impossible to break into the upper echelons of the Premier League at the first attempt, much as I am sure we would all like Villa to do just that. Spurs, for example, have been knocking on the door of the top four for years without being able to make a convincing breakthrough.
None of us wants Aston Villa to be mid-table regulars, but rising from relative obscurity to securing a place at the top table is a huge challenge and a big step up from our achievements since 2018. It is likely to take time, but patience will probably be at a premium for ambitious owners who keep pumping millions of pounds into the club.
A particular difficulty for Villa is that the football Establishment probably doesn't want us to succeed. After the recent home defeat to Arsenal the match report that I read in a national newspaper was almost entirely about Arsenal. Aston Villa received only one very brief mention and I expect the reporter in question got a bollocking from his boss as that was one mention too many. We all know too just how difficult it is for the less fashionable clubs to win refereeing decisions against the mighty handful.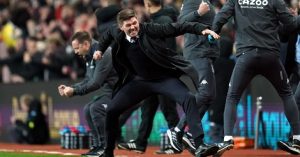 Am I being paranoid, do you think? Possibly, but both Aston Villa and the West Midlands have long been deeply unfashionable, especially to the national media, most of which are of course based in the metropolis and owned by billionaires. So the media print what is required by their owners, who seem not to be keen on Aston Villa hijacking the status quo. A handful of clubs dominating the conversation and bringing in the cash works very well for them.
Steven Gerrard finds himself, in only his second managerial job, under a great deal of pressure. Breaking into the European places next season would be a big ask even for an experienced manager in a league which was set up to give clubs a reasonable chance of challenging the status quo. As it is, the owners need him to get the club into Europe in the face of Establishment indifference and in competition with the strength and resources of the established top six. If he is unable to do this, we risk losing the momentum that has been generated over the last three seasons.
Work is likely to begin in the summer of 2023 to extend Villa Park, with the North Stand being bulldozed to be replaced by a state-of-the-art stand that will increase the stadium's capacity to comfortably over 50,000. There is currently a waiting list for season tickets but the capacity crowds and clamour for season tickets are unlikely to continue for too long if the club starts to drift.
Steven Gerrard is an unknown quantity, in terms of management experience in the top flight, so it is going to be a big test for him to justify the faith shown in him by Christian Purslow and our owners. I very much hope he succeeds but in my view the odds are against him. The morons who announced when Gerrard was appointed that the Villa job is just a stepping stone to taking over at Liverpool will be vindicated only if he earns the right to do so. That will mean him propelling Villa up the table in the face of much competition from more fashionable clubs who are already either occupying or close to occupying the European spots.
If experience to date is anything to go by, Steven will be backed in the transfer market by the owners in the hope that we will take the next step, but that money needs to be spent on the right players and quickly reflected in a rise up the table. This could be easier said than done as elite players want to play for elite clubs and if the team is not playing in Europe it is not among the elite. In addition, there is always the possibility of losing your better players to more successful teams.
David Moyes has recently come close to moving West Ham into the top four, but he has many years of Premier League management experience behind him. Let us hope that Steven Gerrard will learn quickly and take Aston Villa to where we all aspire to be. Above all, we need him to maintain some momentum and keep us all believing.